This beautiful recipe from
Cook It Up Paleo
, goes out to my Paleo peeps. It is a Paleo Apple Strudel. I would omit the egg and use Palm Shortening or Earth's Balance instead of butter. I bet you could sub any GF flour for the cassava. I have never used Cassava flour, and since I can't have nuts this is an exciting idea.
Paleo Apple Strudel (nut-free)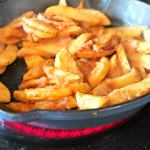 Prep Time : 30 minutes
Cook Time : 25 minutes
Yield :

6 servings
Nutrition facts :
Instructions
Preheat oven to 350 degrees Fahrenheit.
Heat the butter in a medium skillet and add the apples, coconut sugar, cinnamon, and applesauce. Saute until caramelized.
Meanwhile, make the dough. Cut the butter, cassava flour and salt together until the mixture resembles course crumbs. Stir in the egg and coconut sugar.
Roll out the dough on a floured surface into a 1/4" thick rectangle. Use a knife to cut slits down the long sides ever 1/2" or so.
Spoon the apples down the middle and fold the strips over the apples, alternating sides. Seal with wet fingers and carefully transfer to a baking sheet. Brush with the egg white and sprinkle with coconut sugar.
Bake for 25 minutes.
Slice and serve.
*You can get cassava flour
here
.