ENCHILADAS:
Enchilada Sauce
1 TBS olive oil
1 TBS garlic powder (or 2 cloves garlic crushed)
1 TBS onion powder (or 1/2 onion chopped)
1 TBS cumin
2 TBS mild chili powder
4 TBS gluten free flour (I use a gluten free mix here, or garbanzo)
4 cups chicken broth
1 (8 oz) can tomato sauce (I use a small can of tomato paste plus 1 can water)
salt to taste
1. Mix spices and flour in olive oil in saucepan over medium heat until fragrant and starting to brown.
2. Slowly add the chicken broth and tomato sauce and cook and stir until thickened. (15 or so minutes). Add salt to taste.
This makes a double batch of sauce. Label and freeze half of it.
Other ingredients:
Shredded cooked chicken
diced avocado
chopped green onion
chopped red pepper
chopped tomatoes
cilantro
daiya cheese
brown rice tortillas
dairy free sour cream (Tofutti, or So Delicious Coconut yogurt).
salsa
(green salsa is dynamite on this!)
black olives
Pour some of the sauce in the bottom of the 9 x 11 pan to make a thin layer. I take Trader Joe's or Food for Life tortillas, and freeze them in the freezer. Take tortillas out one by one and dip them in the hot enchilada sauce for 5 seconds (holding on to the top outside of the sauce with your fingers). Take them out and lay them in the pan.Put 1/2 cup of cooked shredded chicken down the middle. Roll them up with the seams down. Repeat until you have a pan full of enchiladas. Sprinkle with daiya cheese and chopped olives (if desired). Baked at 450F until warmed through. (15 minutes or so) and "cheese" is melted.
Or in the Crockpot:
Cook on high for four hours and sprinkle on 1/2 cup of non-dairy cheese in the last 10 minutes of cooking.
While it is cooking I shred the lettuce, chop tomatoes, chop green onions, chop cilantro, cut avocado into chunks, and make guacamole (combining smashed avocados with some salsa in a ratio of 2/3 avacado to 1/3 salsa). We also like to put diced red peppers on top. Serve the enchilada with piled toppings on top. You can even use So Delicious plain yogurt or sheep's yogurt on top for a sour cream.
Since half of this is frozen, it means you have an easy dinner just waiting to happen. I put the frozen tortillas in the freezer and heat them from frozen so they are ready to go. I make my own chicken broth in the crockpot (go
here
) and then freeze the chicken in two portions. I thaw one of the portions and the sauce. . . . walla! Dinner in no time!
RICE: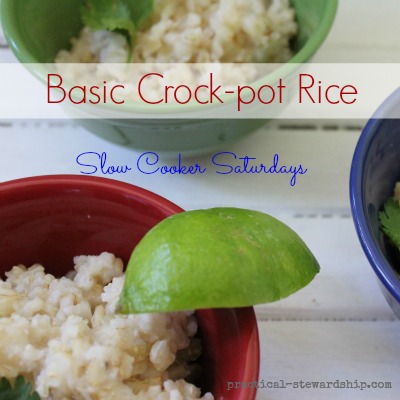 photo as noted from practical-stewardship.com


Ingredients
3 1/4 cups of water (for more flavor, you can sub part or all of the water with broth depending on what you are serving the rice with)
1 1/2 cups organic brown rice, I use Basmati (basically it's a generous 2 parts water to 1 part rice). The amount of cooked rice yielded depends on the type of rice you use.
Instructions
Generously grease the slow cooker with coconut or olive oil.
Place the rice in the bottom of the slow cooker.
Slowly pour in the water.
Cover and cook on high for about 2 1/2 hours or on low for about 5 hours or until the rice is soft and the water is absorbed. Every crock-pot cooks differently, so WITHOUT lifting the lid, check the crock-pot every hour the first time you make this.
Stir when completely cooked and top with your meats and sauces like Thai Cashew Shrimp.